A.H. Almaas Invites You to Experience

An Online Program on the View of
Totality in the Diamond Approach

Advanced Teachings on Consciousness, Spiritual Awakening,
and the Ever-Changing Nature of the Universe—and You

We often think of enlightenment as the ultimate destination on the spiritual journey—a final endpoint for delusion and suffering where it all makes perfect sense.

But as A.H. Almaas teaches, "the moment we see that the journey has no end, everything changes."

With Endless Enlightenment, you are invited to join the renowned author and creator of the Diamond Approach for his first online course on what he considers one of the most advanced aspects of his teaching: the view of totality.

To know the totality of our experience, we need to have an inquisitive awareness—a curious awareness that is not intended to change or improve our experience, to alter it in any way, or to compare it to any other experience.

Over the course of eight sessions—including two Q&A sessions previously recorded live with A.H. Almaas—you will join this visionary guide as he shares a nonhierarchical perspective that he believes can exponentially expand our ability to appreciate the value of each and every spiritual path and practice.

Endless Enlightenment will illuminate
The surprising
relationship between
practice, grace, and
realization

How to integrate the
wisdom of our greatest
discoveries into our
everyday lives

Love, compassion,
kindness, and generosity
as universal expressions
of spiritual awakening

The nature
of time and space,
the role of individual
consciousness, the
paradox of nondoing,
and the mystery of
emptiness
—all from the perspective of the view of totality
"In this teaching, realization begets further realization," explains A.H. Almaas. "Meaning that each condition of realization leads to another condition of realization and then another, and each realization is free to realize itself in ever-deeper ways, changing and transforming itself to other conditions of realization."
Opening to the Possibilities of Exactly Where You Are Right Now
From the perspective of the view of totality, the spiritual journey is not a matter of going someplace—it is a matter of discovering deeply what's happening right here and now.
Below is an overview of the Endless Enlightenment course curriculum, featuring Sounds True founder Tami Simon in dialogue with A.H. Almaas in eight hours of video instruction: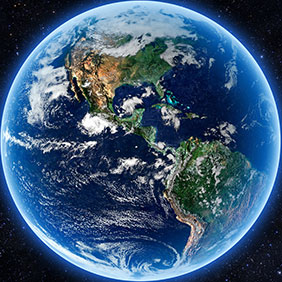 Session One: Introduction to the View of Totality
In the Diamond Approach, the understanding of the view of totality is an advanced teaching, one that Hameed has only begun to introduce within the Ridhwan School and to the general public over the last several years. In our opening session, Hameed talks about the difference between nondual realization (and how there are various types of nondual realization) and the view of totality. He discusses how the view of totality emerged in his own experience and how it relates to discovering individual consciousness—a consciousness that is not the same as the ego, but is "pure consciousness individualized."
Topics include:

Origins of the Diamond Approach as a secret lineage and "The Brotherhood of the Bees"
The discovery of the freedom vehicle
The four turnings within the Diamond Approach
Spirit and matter as a conceptual polarity
The indeterminacy of reality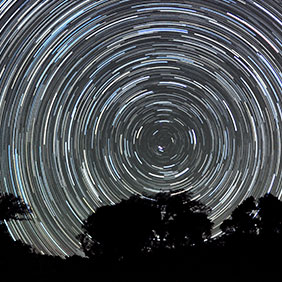 Session Two: Q&A Session with A.H. Almaas
In a 70-minute video session previously recorded live with course participants, Hameed fields a wide range of questions about the view of totality, the Diamond Approach, and the journey of enlightenment. In dialogue with individuals about their unique experiences, Hameed further illuminates this profound material and opens the door to concepts explored later in the course.
Topics include:

The necessity of self-directed inquiry even while following an established teaching
Working past ego to realize essential states of being
Practical, ground-level techniques for cultivating presence
The intersection of spiritual realization and physical experience
The distinction between total being and true nature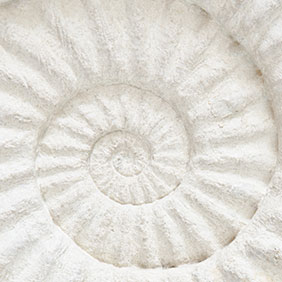 Session Three: How Does the View of Totality Change Our Approach to Spiritual Practice?
In the view of totality, there is no ultimate goal or endpoint to the spiritual journey. Hameed even goes so far as to say that having a goal for the spiritual journey is like "trying to twist God's arm." In our third session, Hameed addresses what he calls "the dynamic of realization" and how, from the nondual perspective, "practice is nothing but reality practicing in a way to reveal itself." Hameed also describes what he means by practicing in a "continual" way, and what emerges when our whole being is oriented towards greater self-revelation.
Topics include:

The yoga of nondoing
The paradox that some people have never engaged in spiritual practice yet experience profound spiritual awakenings—while others practice diligently for years without an awakening
"Delusion after enlightenment"
The emergence of "red sulfur" and the process that it ignites
Session Four: The Many Faces of True Nature
"True nature is what matters most when it comes to spiritual transformation," teaches A.H. Almaas. "It is the single most important element. It is the alpha and omega of the spiritual quest." In our fourth session, he explores the many faces of true nature and how various spiritual traditions describe it.
Topics include:

"Necessary awakening" and "primary awakening"
Crossing the narcissistic gap
Unilocal realization and the collapsing of time and space
The nature of "endless enlightenment"—the unlimited ways of experiencing true nature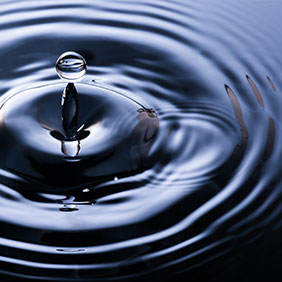 Session Five: The Importance of Individual Consciousness and the Mystery of Emptiness
One of the most distinctive features of the view of totality is the importance it places on individual consciousness. In our fifth session, Hameed discusses how individual consciousness is continuous with pure consciousness, and how this "organ of perception" does not disappear after spiritual awakening.
Topics include:

Emptiness of self, emptiness of other
Action that is purposeless and perfectly useful at the same time
Why a great master becomes greater as time passes
The feeling of nonbeing, and how being and nonbeing are always wedded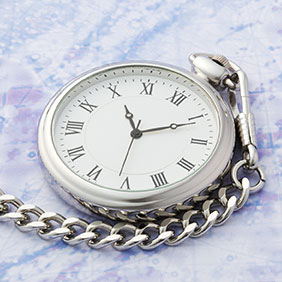 Session Six: Q&A Session with A.H. Almaas
Once again, Hameed fields queries from course participants in an 80-minute, previously recorded Q&A session. This segment brings together and clarifies concepts from across the span of the course.
Topics include:

Working with ideas that transcend the conceptual mind
Spiritual teaching in the modern era and the transmission of wisdom through electronic media
The many different realities of enlightenment
Welcoming the fear of death and loss with open arms
Loving truth no matter what form it takes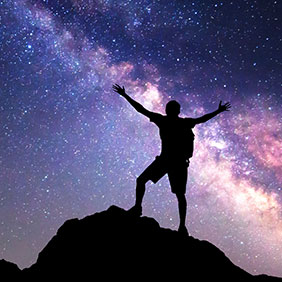 Session Seven: A Nonhierarchical View of Spiritual Traditions and Spiritual Paths
A common belief is that all spiritual traditions are actually saying the same thing and simply using different languages. According to Hameed, this is not the case. In session seven, he describes how we live in a vast spiritual universe in which different spiritual traditions take us on different journeys to different realizations. The view of totality allows us to appreciate the differences among spiritual traditions with the recognition that "unity does not mean the elimination of difference."
Topics include:

What it means to "break the code" of a particular tradition
The challenge to evolve faced by spiritual traditions in our contemporary culture
The potential for self-delusion on the spiritual path
The importance of having a passion for something that is beyond the self
Session Eight: Total Freedom
The view of totality—a view in which we are not restrained by any beliefs or any particular realization—naturally leads to freedom. In our final session, Hameed describes four different types of freedom: freedom from, freedom of, freedom to, and freedom itself.
Topics include:

Freedom and happiness
Joy and its connection to the heart center
The dynamism of reality and "seeing what wants to happen"
Abandoning the dichotomy between spirit and matter
The freedom to be "nobody"
Continuing Education Credits
10.25 continuing education credits are available for purchase by participants in Endless Enlightenment. CE credits offered by Sounds True are generally valid for counselors, social workers, and psychologists. Learn more about approved states and professions here.
What You Will Receive
Your registration for Endless Enlightenment includes:
Eight hours of high-definition
video-learning sessions with A.H. Almaas
Two lively, informative Q&A sessions
featuring questions from beginners and veteran seekers alike
Written course materials including questions for reflection along with solo and partner inquiry practices for each session
Join the Program Today
Order now and save $100!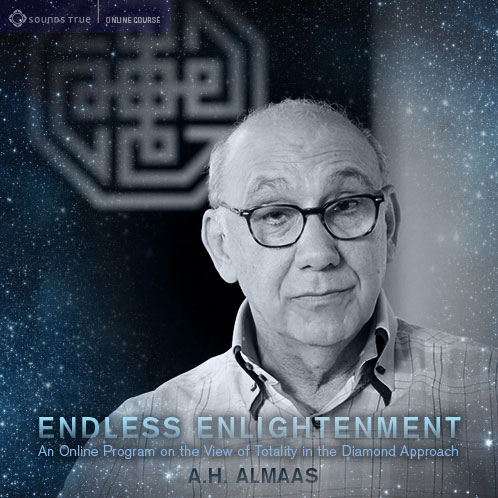 Experience
Endless Enlightenment
with A.H. Almaas
Regular Price
$297
Today $197

100% Guarantee
We unconditionally guarantee your satisfaction with all Sounds True products for one year when purchased via our website. However, if you are not 100% satisfied with Endless Enlightenment for any reason, simply return it with receipt for a full refund.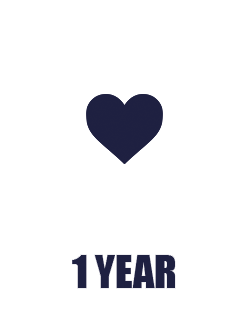 Praise for the Work of A.H. Almaas
Almaas combines penetrating insight with clear communication to describe the self-sustaining fire of awareness awakening to itself. He challenges us to see the profound depth of our freedom as beings of cosmic aliveness who are learning to live in a living universe.
His strong, true voice reminds us that beyond the endless self-improvement projects and idealized mystical states with which the spiritual path is strewn lies the simple but exquisite taste of our own being.
A.H. Almaas is one of the foremost spiritual teachers of our time. His methodology for realizing true nature is precise, teachable, and remarkably clear.
His work is a seamless integration of cutting-edge psychology and profound spirituality that addresses the concerns and hopes of contemporary people.
Join the Program Today
Order now and save $100!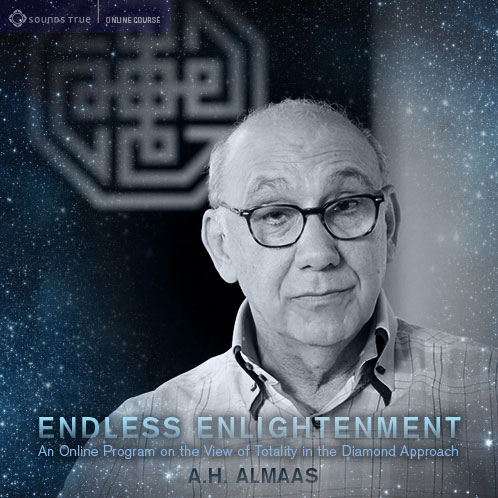 Experience
Endless Enlightenment
with A.H. Almaas
Regular Price
$297
Today $197

100% Guarantee
We unconditionally guarantee your satisfaction with all Sounds True products for one year when purchased via our website. However, if you are not 100% satisfied with Endless Enlightenment for any reason, simply return it with receipt for a full refund.